Chris Skelley and Jack Hodgson have been through a lot in their athletic careers.
The two have come through the ranks of British judo together, sharing the highs and lows of elite sport, including two Paralympic Games, as well as World and European Championships, being roommates at events, training together and setting the world in order from the mat and enjoying lots of laughs along the way.
Now their close friendship is being tested by a rule change in the sport which means only one of them will be able to make it to the Paralympic Games in Paris next year.
After the Tokyo Games, the sport's governing body, the International Blind Sports Association (IBSA), changed the weight classes to include specific events for blind athletes who had previously competed alongside those who have a certain view like Skelley and Hodgson.
However, the total number of medals offered remained the same.
This means that Skelley, who has previously competed in the -100 kg category, winning a superb gold medal in Japan, and Hodgson, who was competing in the +100kg event, both end up in the +90kg division.
With only one place per nation allowed at the Games, they now compete to finish top of the world rankings and make it to Paris.
"I am disgusted that we are now in the same weight class, but when it comes to fighting Jack he is just another opponent," Skelley, 29, told BBC Sport.
"I have to try to keep a cool head. We will always be friends, but you just have to be able to adapt to the situation and make it work for you.
"I think he brings out the best in me and I think he would say the same.
"We both want the same thing, but no matter what, I know we will support each other and no matter what, we will be there for each other.
"I will push him to be in the best possible place and he will do the same for me."
The changes also meant that Skelley had to drop from his natural weight of around 105kg to around 120kg in order to cope with bigger fighters.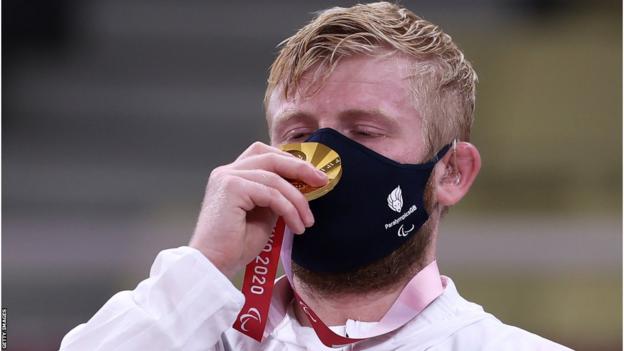 He's had some good results this year and has taken over the world No. Europe in Rotterdam and IBSA. The Birmingham World Games will both take place in August.
"When the changes were confirmed, we sat down for coffee and both said we would be there to support each other," said Hodgson, 26.
"We knew we couldn't do anything about the decision and we wouldn't end our friendship as we were now rivals.
"We shook hands and that was it. One of us would compete, the other wouldn't go and the sooner we accepted it was easier.
"We put it in a box where we fight like hell on the mat but have a hug when it's over."
Both men are based near Britain's national judo training center at Walsall and Hodgson knows he needs good results fast if he is to propel Skelley to the Paralympic berth.
"Becoming world number one for the first time and then losing it to Chris was tough, not just because it was him, but because I was in good shape and I was really happy with the way things were going. were going on," he added.
"But it gave me the motivation and the desire to recover this place.
"I have no choice but to perform when I return to the mat because I missed key events. If I don't perform, I have no chance of going to the Games."
Great Britain head coach Ian Johns, who has been part of the duo's journey for many years, understands the rationale for the changes and is focused on preparing both fighters for the run-up to the Games.
"The decision to change the weights for Paris was made for the right reason and allowed more blind fighters to come back into the sport," he said.
"It was unfair for blind athletes to compete against those who had some sight.
"Yeah it's not good for us but we just have to deal with it and Chris and Jack have to do their best and get in a position to qualify.
"I've always been proud of them and whoever leaves, I'll be happy for them."