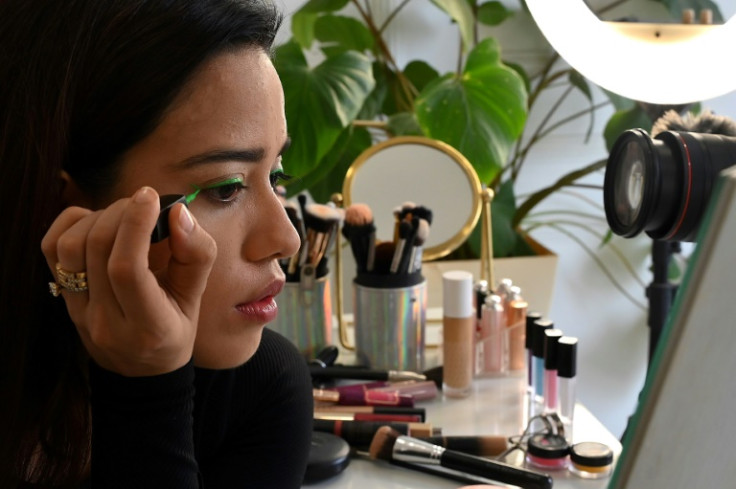 Under the glow of a ring light in the guest bedroom of a Mumbai skyscraper, Indian makeup artist Debasree Banerjee has found fans around the world with a simple philosophy: brown is beautiful.
Banerjee's audience includes women from as far away as the Middle East and the United States who also have darker complexions but have historically been overlooked by the cosmetics industry.
"I actually have a lot of followers who are outside of India, and I feel like it's probably because our skin tones match," Banerjee told AFP.
"They can see how the product looks on my skin tone, how the lipstick looks on my skin tone, and have that sense of ownership."
Banerjee, 34, started experimenting with makeup videos in her spare time a decade ago after graduating from college and moving to Mumbai to work in sales.
She's now a full-time beauty and lifestyle influencer, teaching over half a million followers how to look beautiful on Instagram and YouTube.
Early inspirations included British beauty content creators Tanya Burr and Fleur De Force – both white and with millions of followers between them.
But Banerjee said she couldn't find any models that looked like her.
She credits Rihanna for the seismic shift towards greater inclusion in the cosmetics industry.
In 2017, the pop superstar launched her Fenty Beauty makeup line, which offered 40 shades of foundation and turned her into a billionaire.
"Fenty Beauty has really, really changed the game," Banerjee said. "I think that's when people knew it was important."
While other international brands have tried to keep up, many still have "miles and miles to go" before they can be considered truly inclusive, she added.
"I still see products being launched in three shades, four shades, calling them 'universal.' And that's just ridiculous," Banerjee said.
"In India, everywhere you go…you see our features changing, our language changing, our skin color changing. So it's very, very important to have more inclusive makeup."
Cheap internet data, rising income levels and the world's largest youth population have fueled an explosion in India's beauty and personal care market.
The industry is now worth $15 billion domestically every year, and Euromonitor predicts that figure will double by 2030.
Local e-commerce platform Nykaa – which helped make global cosmetics brands easily accessible to Indians for the first time – was one of India's most anticipated IPOs of 2021.
"People thought brown skin wasn't pretty," Faby, another beauty influencer living in Mumbai, told AFP. "But now we have started to learn to love each other."
Faby has nearly 900,000 Instagram followers and has established herself as one of India's top cosmetic stylists, recently teaming up with top Bollywood actress Deepika Padukone to promote a skincare line.
Almost all of her apartment has been transformed into a studio with professional lights, camera gear and retractable backdrops to style her regular online tutorials.
The job can be grueling, with day-long shoots lasting until well after midnight, but the money Faby earns from brand collaborations is enough to support herself and her mother.
"It was difficult, but now I can have my own Dior bag, I can have whatever I want," Faby said. "It's because of the fans watching."
The Indian government belatedly acknowledged the explosive growth of online content creation last year, announcing a 10% tax on promotional gifts worth more than 20,000 rupees ($244).
The move put part of the country's $120 million influencer market under the tax net – mainly advertising products beyond the purchasing power of the vast majority of Indians.
A single lipstick from a top international brand can cost around 2,000 rupees ($24) locally, more than half of Indian households pay for their weekly groceries, according to UK market research firm Kantar.
But the gap between material desires and means has proven to be fertile ground for other Indian influencers to show their audiences how to stay on trend without breaking the bank.
"There are a lot of people who can't afford expensive products, so my DIY shows them how to be more beautiful," Kavita Jadon, 34, told AFP.
From her home, a few hours drive from the capital New Delhi, the housewife and mother of two makes videos showing how to make ersatz concealer from moisturizer and ground coffee, at a fraction the price of branded products.
Despite shooting from a cheap phone, editing with freeware, and lacking Banerjee and Faby's elaborate studio setups, Jadon has amassed over 169,000 Facebook followers.
Many of his homemade product ideas are the result of careful trial and error, with his audience eagerly sharing their own ideas or asking him for requests.
"Using big brand products is not essential, it is possible to use local products and create beauty products at home too," she said.
"That's why my page has grown so much."