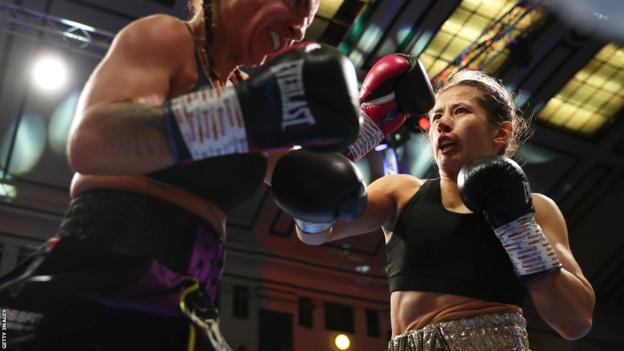 Even by women's boxing standards, Nina Hughes' rise to the top was supercharged.
This is made all the more remarkable by the fact that Hughes is a 41-year-old mother of two who still works as a part-time secretary to help support her young children.
"It's crazy," she told BBC Sport. "Five fights and I become world champion, it happened so fast."
However, not as quickly as it seems at first glance. Hughes has been boxing for over 15 years. She has been struck off many times, including by herself.
Hughes, from Grays in Essex, started boxing lessons when he was 25. She had no intention of stepping into the ring competitively.
"I was purely into fitness, but my coach convinced me," she says. "So I started sparring, then he said 'you ready to box'.
"I didn't think I was good, the boys kept beating me!"
However, after transferring his training to a women's gym and realizing his abilities, Hughes began an amateur career which proved so successful that it earned him a place in the British team.
She traveled the world for tournaments alongside fighters including Nicola Adams, who fought in the same weight class. When it came to selection for London 2012 – the first Olympics where women's boxing was a medal event – ​​Adams was selected while Hughes missed out.
Adams won gold in London – and Rio four years later – and became a household name.
During this time, Hughes felt she had reached her limit in boxing, with limited opportunities for women to turn professional.
She gave up the sport and had two children, boxing as a hobby to lose weight.
"It was just me and Nicola left at our weight, but I was too inexperienced," Hughes said of the disappointment at London 2012. "The decision was good, it won two golds.
"It was obviously very disappointing because my age was already against me – if I was younger they would have kept me for Rio, but I was coming for 30.
"After training full time it was hard to get back to work, it was a big change. It was heartbreaking. I didn't think I would get back to it."
Despite his setbacks, Hughes' passion for boxing never faded. She was back in the gym just three weeks after the birth of her second child, although there was no talk of fighting competitively again until the 2020 coronavirus lockdown.
"Gyms have been closed for so long, I thought it was time to retire, but I missed it," she says.
"They were showing a lot of women's fights on TV, and I was like 'if I don't try, I'll never know'."
Hughes joined the Newlands Professional Gym in Wickford – and the rest is still in boxing history.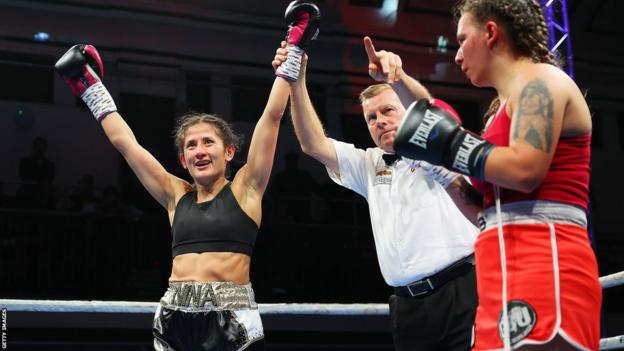 She had her first professional fight in December 2021, before winning three fights in six months to 2022, of which she picked up two wins by stoppage.
This led to the fight with reigning bantamweight champion Mitchell, for which she was the underdog. But Hughes took a unanimous points victory after which the American admitted 'she was tougher than I thought'.
Hughes never doubted her abilities – though the speed of her rise surprised even her.
"We were pushing, aiming to be world champions in two years," she said. "I always knew I would be good enough, but I didn't think I would get an opportunity.
"She [Mitchell] thought it would go through me, but it was good for me. I would have been unlucky otherwise.
"It's a good feeling [to be champion], really satisfying. With my age, they laugh at me, they never give me a chance. Now that I have the belt, everyone wants to fight."
Hughes wants former WBA bantamweight champion Shannon Courtenay for her next fight, with a summer date, possibly June, targeted.
Whether this fight happens, Hughes, having signed with Matchroom, envisions a bright future in which his age does not matter.
"I don't feel my age, you're only as old as you feel," she said. "I don't think I should be discriminated against because I'm 41.
"I will know when my body tells me I've had enough. If I had started at 12, my body would be a lot more worn down.
"I'm definitely making up for lost time. Boxers are often trained in the professional ranks, but I wanted to advance quickly."
In addition to her age and the prejudice it can bring, Hughes has had to balance her boxing career with her family life.
Separated from her companion, she now spends much of her time caring for her children, aged six and eight, as well as working three days a week in London as a personal assistant.
"I think people wrote me off, because they look at my lack of work experience and my age, but it took 15 years to get to that point," she says.
"It was all a dream, then finally a dream come true. I can't believe I actually did it."