Place:
Cardiff Arms Park
Date:
saturday april 15
To start up:
2:15 p.m. GMT
Blanket:
Live on BBC Two Wales, BBC iPlayer, BBC Sport website and app; BBC Radio Wales, BBC Radio Cymru, BBC Radio 5 Sports Extra; live text commentary on the BBC Sport website and app
In her BBC Sport Wales column, Welsh number eight Sioned Harries talks about the exhilaration of winning in Edinburgh and looks to the challenge from England.
We knew Scotland was going to be a tough place. They were targeting us as the game to get their Six Nations back on track after a heavy loss to England.
They made it pretty obvious on their media platforms – and it really got us pumped up.
We usually play at the Scotstoun in Glasgow, but the atmosphere in Edinburgh was electric, probably on par with Cardiff Arms Park when we played Ireland.
The stadium was confined so the crowd was much closer and we could hear all the chanting and chanting from our great traveling support.
It was a very tight game, especially in the first half, but the real shifter was Scotland knocking down a lineout from five yards just half-time as we had Kerin Lake in the trash.
It was great to be able to start quickly in the second half with an early try, and we took that away from them in the last 15 minutes.
Tactically we made the right changes and made the right decisions on the pitch at the right time, and Ffion Lewis showed that she certainly knew where the try line was, just as she did in Cardiff the last year.
The final score (34-22) is the biggest margin we've beaten them by in a while, it's usually closer than that. It's great to see us scoring tries more freely now, we've had two wins and two bonus points.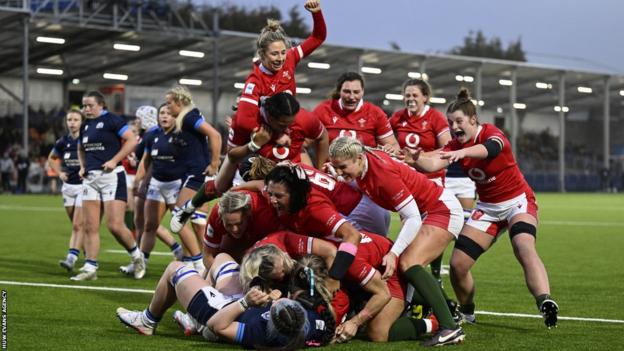 Prop idols
If you look at us last season and at the World Cup, our problem was that we didn't come out of our opponent's 22 with points. Now we play our momentum and try to be clinical with our chances.
Our front row gets the applause and rightly so. They are our own minesweeper.
At the World Cup, there was a lot of talk about the hard work of our backline giving halfbacks a ride. But for now, it's the front row that gives the rest of the pack a ride!
The number of lifts they perform between the three of them is ridiculous, they work so hard and their performance is credited to their fitness and skills.
They played for 79 minutes, which is unheard of. But how do you take them off when they play so well?
It was great to see Keira [Bevan] winning his 50th selection. I was there for his first time when we beat England at St Helen's in 2015.
It was a very good moment for her to run in the field in front of her parents. Shaun Connor [Wales attack and kicking coach] presented his cap.
It was fitting because Keira used to go to the Ospreys all the time and always insisted on waiting for a photo and an autograph from Shaun.
I remember when I took a break I looked to put Keira on for the tryout. Some said "you should have supported yourself", but I thought Keira would never have forgiven me if she hadn't given her the opportunity at her 50th birthday. Anyway, neither of us scored in the end, but we're laughing about it now. We all know how sensitive scrum-halves are!
We were allowed to go out and party. by Ian [Cunningham] the words were "Celebrate the win, it's important that you hang out with your teammates, just remember we have an early morning flight".
We all gathered at the hotel bar, and a few of us went looking for a karaoke bar, but it was full for a private party, so I couldn't stop Mustang Sally .
We ended up coming back to the hotel. It was pretty cool actually because the girls from Worcester who traveled to support were there, we had a catch up and it ended up being a really good night with both sets of teammates.
Change of focus to England
We're entering the fallow week now, and it's still one of the toughest weeks because the bodies are going to be tired and the injuries are piling up, but you have to keep the momentum going and keep the spirits up.
There will be another blooper reel screening this week and a post-training Easter egg hunt. Comedy clubs have also been busy compiling stuff, but I can say more next week because I don't want to say too much.
The feeling at camp is really good and we will stay focused because England are next.
I'm glad we got them in the middle of the campaign considering how we started. It's a high-level clash and it's up to us to support these first two performances.
We certainly don't get ahead of ourselves and think we're unstoppable, we sure have work to do.
Our discipline will be great. We gave 15 penalties against Scotland, 10 in the first half. You just can't afford to do that, especially against England who are a very clinical team.
If we're unruly, we'll just give them a push on the pitch.
We also have to do some breakdown work, we have to win the race there, but at the end of the day, we just have to be clinical in specific areas of the pitch.
In previous games against England we've played a lot without the ball, so that's a lot of what we can do when we have the ball.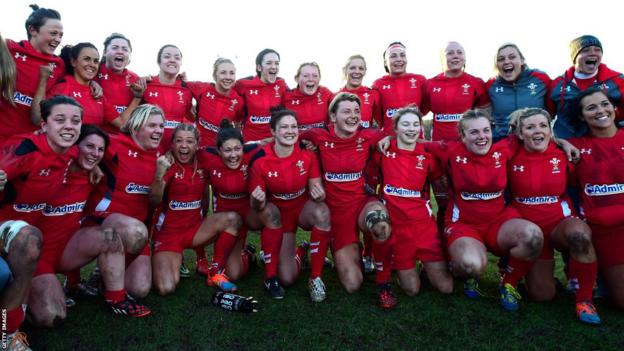 Could history repeat itself?
Having another record crowd at Cardiff Arms Park gives us such a big boost. Over 8,000 tickets have been sold for England, and we want to keep breaking records.
It's going to be loud, but I'm not naive enough to think there will only be Welsh fans. There will also be a lot of Red Roses fans as it's just across the bridge. I'm so excited for this, I really can't wait.
I was part of the team that beat England for only the second time in our history eight years ago.
I think it was just a feeling of utter disbelief at the time because they were the World Cup winners in 2014 and it was the first Six Nations after that tournament.
I remember Elinor Snowsill's perfect cross kick for Laurie Harries. You tend to see things like this happen in training, but never in a game.
It was just one of those days where everything was going our way and everything was working. It would be nice to have one Saturday a week.
Everyone keeps saying there's no better time to play in England with some of the players they've injured.
But I have enough experience to know that we never underestimate England, that we never exclude them. They have tremendous depth and talent in their squad.
Carys Phillips, who was also part of the 2015 team, and I were out for coffee on Sunday morning when we bumped into Gerald Davies.
He mentioned, 'England then then the girls'. We said to ourselves "yes, it will be hard". But he replied 'Yes, they're a good team, but someone has to beat them', and I guess that's true.